If handling pigs' hearts and sheep's brains grossed them out, the smiles on their faces did not let it show.
Four students from the remote community of Brochet in Northern Manitoba were introduced to authentic, hands-on science experiences in Winnipeg this month. This was thanks to a generous in-kind donation from Winnipeg's Exchange Income Corporation (EIC).
The Brochet youth and their two chaperones joined dozens of others from the Frontier School Division on a field trip to the RBC Youth BIOlab Jeunesse at the St. Boniface Hospital Albrechtsen Research Centre.
For many of them in Grades 2 to 8, it was their first time being in a real science lab.
Facilitators Meghan Kynoch, Program Coordinator, and Anjelica Bodnaryk, Education Liaison, guided students in the packed lab. The kids looked at both mouse heart cells and cells swabbed from their own cheeks under microscopes. They also handled and examined animal hearts and preserved brains.
Perimeter Aviation provided flights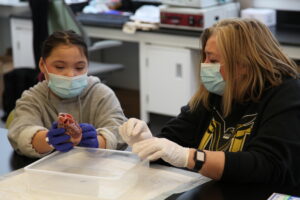 Exchange Income Corporation subsidiary Perimeter Aviation flew the group from Brochet School to Winnipeg. EIC is focused on aerospace and aviation services and equipment, and manufacturing.
"The areas we serve are remote northern communities.. As an organization we believe in supporting and fostering growth," said Charity Scantlebury, Director of Marketing and Communications at Perimeter Aviation.
The trip to Winnipeg was a way for the kids from Brochet to see and try things they might not have access to otherwise. "School introduces students to opportunities they can pursue, but I think the Youth BIOlab is a place where kids can fall in love with science," she said.
Stepping outside the noisy Youth BIOlab for a quick chat, Scantlebury explained that Perimeter promotes and supports three pillars: "Mental health, education and training, and healthy and active living. In terms of delivering on our pillars, the Youth BIOlab is a great fit," said Scantlebury.
Frontier School Division spans nearly 75 per cent of the province and is organized into five Areas. Coming from about 15 different northern and remote communities across the Division, the students attended Youth BIOlab sessions from March 14 to 16. They also participated in their annual Science Fair held at the new Royal Aviation Museum of Western Canada.
"The kids love the Youth BIOlab. They love it! They are exhausted by the end of the day, seeing hearts and brains and all kinds of fun things," exclaimed Arif Kassum, a Science Instructional Coach with Frontier School Division and facilitator of the Science Fair.
"We are trying to show them that there is a lot more to science than just textbooks and little classroom experiments. There are these kinds of opportunities," said Kassum.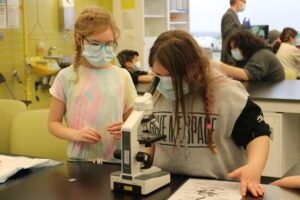 "They have such a great scope and range of activities available here, depending on the grade level. And they get into everything important, especially when it comes to biomedical research," he said.
The support from EIC is important, Kassum added. "Our schools have limited budgets that don't allow students to travel long distances, let alone fly, because of the costs. So, having any type of outside funding and support provides students the opportunity to come to Winnipeg, which they would not have."
Funds the Youth BIOlab program received in August 2020 from the Manitoba Métis Heritage Fund and matched by the Manitoba Métis Federation helped cover the costs of ground transportation for many of the other Frontier School Division groups on the trip.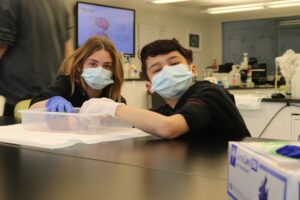 "Steve (Jones, Youth BIOlab Director), Meghan, and Anjelica do an incredible job of keeping our students going and interested in science. They are keeping it relevant because a lot of the things the kids are learning are directly related to Manitoba's science curriculum," said Kassum.
Since opening in 2013, the Youth BIOlab has welcomed more than 75,000 students like the ones from Brochet School and exposed them to careers and ideas in medicine and research.
Not all of them are destined to become doctors and researchers, of course. With that in mind, the Youth BIOlab facilitators designed programming to teach all kids who visit about health literacy. By connecting them with the science of health in a meaningful way, the Youth BIOlab helps kids understand their own health, and helps them connect their classroom learning to cutting-edge science.
Thanks to St. Boniface Hospital Foundation for sharing this story.